As of this month, the U.S. Covid-19 status is worse many times over compared to June last year. It is crucial for everyone to take all the necessary precautions to keep themselves and others safe from infection. As a local food business, it is important to ensure that you are following all the necessary health safety practices.
This article gives an update on the current Covid-19 situation in the country. It will then outline some of the most important tips to help you stay safe while preparing and serving food, and how you can ensure that your customers are protected.
U.S. Covid-19 Update
According to data from the Centers for Disease Control and Prevention (CDC), there were 20,000 cases of Covid-19 in June 2021. In contrast, there are now 100,000 new cases daily on average. There may be even more that are unreported since home testing is available widely.
As of June 1, overall cases have been increasing for eight straight weeks already. Among children, cases have been increasing for seven successive weeks. In June 2021, there were only 10,000 cases among children weekly. In the last week of May alone, there were 112,000 cases among children. Hospital admissions for Covid-19 are at 3,500 patients a day.
New Covid-19 variants make up a small percentage of current cases, according to the CDC. As of June 4, Covid-19 BA.5 accounted for 7.6 percent of cases while Covid-19 BA.4 accounted for 5.4 percent of cases.
Here are some things you must do in your local food business to protect yourself and the community.
Outdoor Dining
Since people have to remove masks to eat, outdoor dining is still the safest option for everyone. If you have not been doing this already, start offering outdoor dining in your local food business. If you do not have an outdoor area, consider using a nearby park or public space with the permission of the authorities.
Indoor Dining
If you cannot offer outdoor dining, indoor dining is still possible as long as you take the necessary precautions. Make sure that your indoor space is well-ventilated. You can do this by opening windows and doors and using fans.
Even when doors and windows are open, keep your ventilator running and ensure that it is equipped with a Minimum Efficiency Reporting Value (MERV) 16 high-efficiency particulate air (HEPA) filter. The CDC recommends this or the highest possible MERV that your HVAC system can handle. You can further support this by distributing portable HEPA units throughout your establishment.
Put up signage to remind customers and employees to wear masks when not eating or drinking. Sanitize all surfaces regularly, and limit the number of people inside the premises at any given time.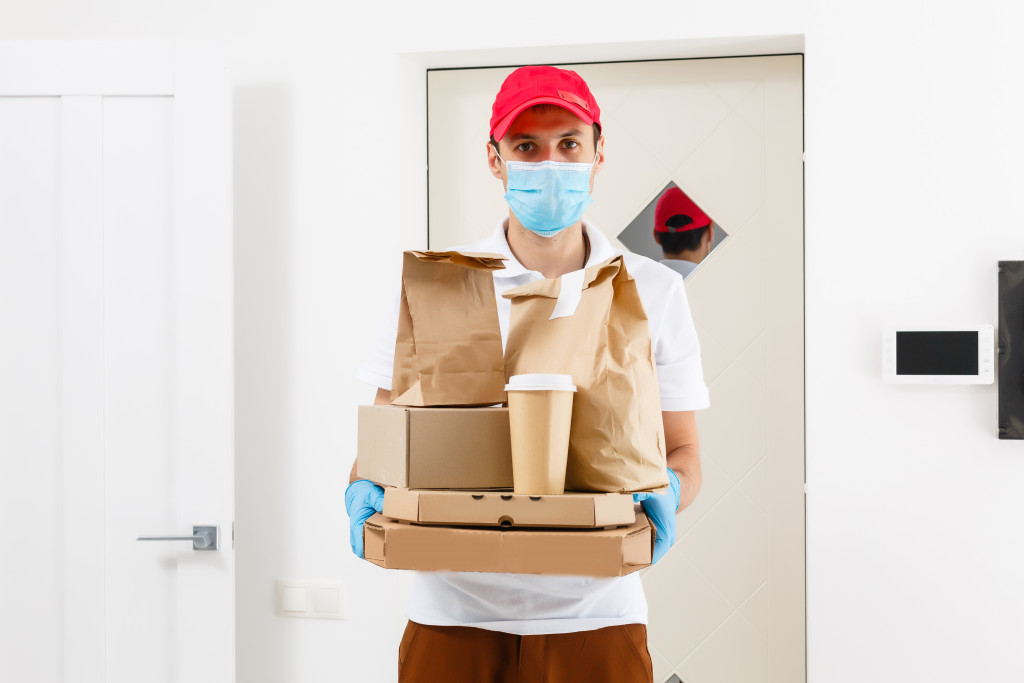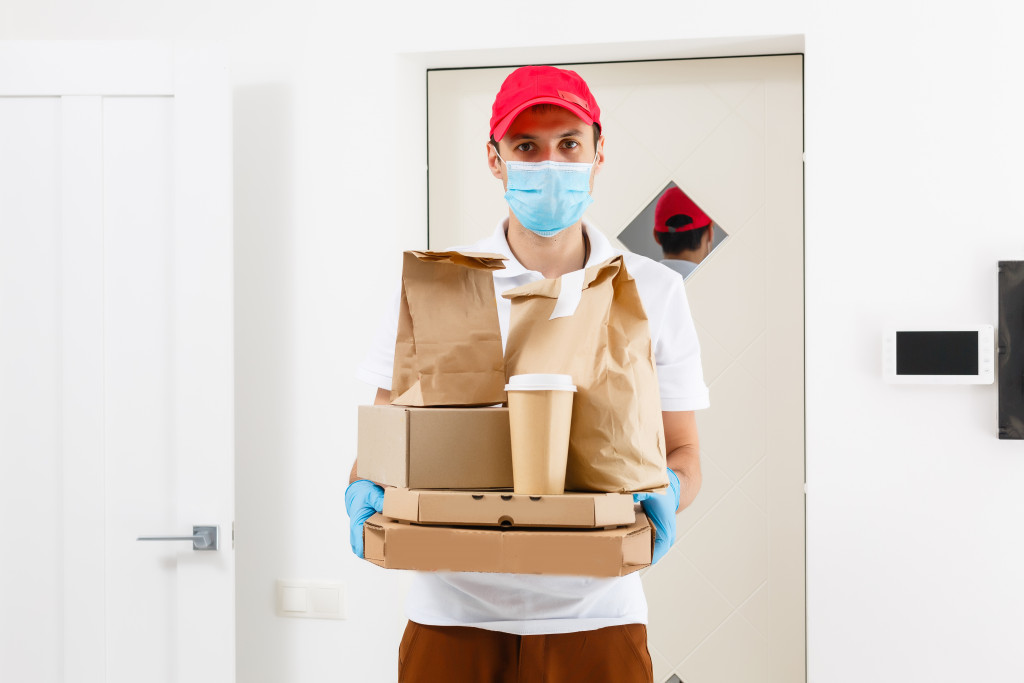 Touchless Fixtures
When possible, use touchless fixtures to help reduce the risk of transmission through contact with surfaces. For instance, use touchless condiment dispensers and provide one on each table so that diners need not gather around a dispenser table. In your comfort rooms, use touchless faucets, and touchless paper towel dispensers. Install a touchless payment system where diners can pay through their phones.
Cleaning and Sanitizing
Cleaning and sanitizing are crucial in preventing the spread of Covid-19. Clean all surfaces regularly with soap and water. After cleaning, disinfect all surfaces with a CDC-approved product. Pay special attention to high-touch areas such as doorknobs, light switches, countertops, tabletops, ATM machines, door handles, faucets, toilets, phones, keyboards, remote controls, and credit card machines.
Employees should clean their hands thoroughly and often. Provide them with soap, water, and alcohol-based hand sanitizers.
Kitchen Safety
When preparing food, always wear gloves and a face mask. Prepare food in small batches to minimize the time spent in the kitchen. Avoid pre-cutting vegetables and fruits as much as possible. If you have to, clean and sanitize the cutting board and knives after each use.
Ensure that all food is cooked thoroughly. Use a food thermometer to check the internal temperature of meat, poultry, seafood, and other cooked food.
Keep raw poultry, meat, and seafood away from ready-to-eat foods in storage. In the refrigerator, they must be on separate levels, with the cooked food above and the raw food below.
Regularly wash your hands, counters, utensils, and surfaces with soap and water. Disinfect them with a CDC-approved product after cleaning.
Delivery and Takeout
If you want to continue serving food through delivery and takeout, there are things you need to do to keep everyone safe. Make sure that all food is properly packaged. Use single-use gloves when packing food. Do not forget to include utensils and napkins in the packaging.
When possible, use contactless delivery methods. If you need to hand off the food to the customer, make sure that you wear a mask and gloves. Sanitize your hands before and after the transaction.
Keep Your Local Food Business and Your Diners Safe
These are only some things you can do in your local food business during the Covid-19 pandemic. Implementing these health safety measures will protect you, your employees, and your customers. Keep everyone safe by being vigilant and following these tips.