What is an auto repair shop? An auto repair shop is a business that provides maintenance and repairs for automobiles. This can include oil changes and tune-ups to more serious repairs such as engine and transmission work. Auto repair shops can be standalone businesses or part of a larger chain.
As you can see, its services are vital for car owners. That's why every community needs one. And with the right location, team, and business plan, your shop can be a thriving business. Here are a few things to consider:
Location
If you're considering opening an auto repair shop, one of the most important things you'll need to do is choose the correct location. There are a few things you should keep in mind when making your decision. First, you'll need to ensure there's enough foot traffic in the area to attract customers. You'll also want to be near other businesses that your customers might frequent, such as gas stations and car dealerships. Lastly, you'll need enough space to store your equipment and vehicles.
However, you can't just open up a shop anywhere. You'll need to ensure the lease or purchase price is within your budget. And, of course, you'll want to choose a convenient location for your employees. It should be where they can quickly get to and from work.
Business Plan
The next thing you need to do is create a business plan. This will be a roadmap for your new business. It should include everything from your target market to your marketing strategy. Your business plan will also need to have financial projections. This will give you an idea of how much money you'll need to start your business and how much you can expect to make in the first few years.
The business plan for your auto shop should also include the services you want to offer and the equipment, tools, and parts you'll need to get started. For instance, if you're planning to specialize in repairing classic vehicles, you'll need a good supplier of rebuilding kits. An antique auto suspension rebuild kit is not something you're likely to find at your local auto parts store, so plan ahead and find a reputable supplier before starting.
Obtaining Financing
Once you have a business plan, you'll need to consider financing. If you don't have the cash on hand to start your business, you'll need to look into other options, such as loans or investors. Banks are usually a good place to start when looking for a loan. However, you'll need a solid business plan before they approve you for a loan.
You can also look into government loans, such as the Small Business Administration's 7(a) loan program. This program offers loans of up to $5 million to small businesses. The good thing about government loans is that they often come with lower interest rates and longer repayment terms.
If you cannot get a loan, you might need to look into finding investors. This can be a riskier proposition, as you'll give up a portion of your business in exchange for financing. However, it can be a good option if you cannot get a loan.
Team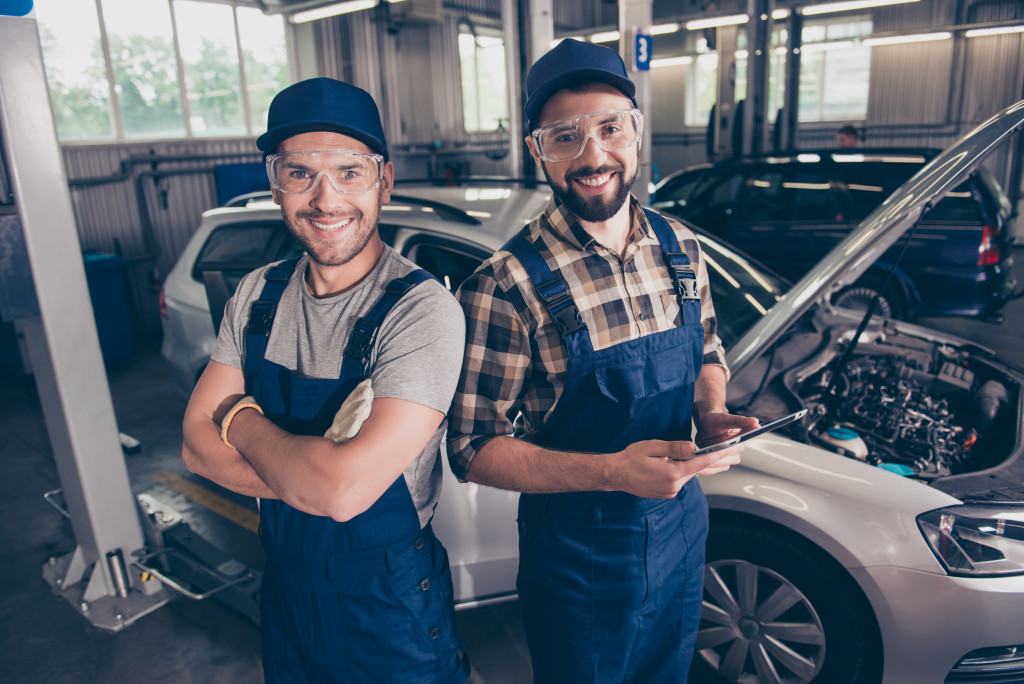 As with any business, the people you surround yourself with are crucial to your success. When it comes to an auto repair shop, you'll need to hire individuals with specific skills. In most cases, you need to hire the following people:
A mechanic – someone who is experienced in repairing cars. They should have a strong understanding of how cars work and can diagnose and fix common problems.
An auto body technician – someone who specializes in repairing the exterior of vehicles. This can include everything from dents and scratches to more severe damage such as broken windows and bumper damage.
An administrative assistant – someone who can handle the day-to-day tasks of running a business. This includes answering phones, scheduling appointments, and keeping track of inventory.
Customer service representative – someone who can deal with customers. This person should be friendly and helpful, and they should be able to answer any questions the customer might have.
Of course, you don't have to hire all these people at once. You can start with just a mechanic and an administrative assistant and add on additional staff as you grow.
Final thoughts
The whole process of building an auto shop from the ground up can be daunting. Still, it's important to remember that it's not impossible. Don't be discouraged if you hit a few bumps in the road along the way. Just stay focused on your goal and keep moving forward. With a little hard work and dedication, you'll be able to build a successful business.