Your home is where you can seek comfort, keep memories, and strengthen connections. An authentic home presents many advantages to families. You don't have to be rich or have a big home to create a place that continually reminds you of your innermost beliefs and aspirations and encourages you to act on them.
The Importance of a Home
Home has always been a meeting place, a haven, and a refuge from the bustle and intrusiveness of the outside world. Home has been the subject of numerous written works and other cultural products because it has been much thought about, treasured, and longed for as an anchor of our existence. As a result, we may reasonably assume that home is a well-understood notion and a source of generally pleasant emotions. However, upon closer examination, none of these assumptions is shown to be correct. Different languages build the idea of a home differently; homes are built and lived in quite differently by various cultures, and many people have unpleasant or mixed feelings about their home life experiences. It is difficult to accept all subtleties of meaning, attitude, lifestyle, and emotion associated with home. Still, it significantly enhances our perspective on the world.
No matter where you live, the term strikes something inside each of us. Home is a refuge, a place where we can rest, relax, spend time with friends, study, and develop. Our houses reveal a lot about who we are as people and what we value in life.
Home is where the soul is, but there's more to life than that. Our ties to home are common threads in our lives that come up naturally in regular conversation. We use the word home to define where we are from (small hometown), to cheer on athletes who represent us in sporting events (home teams), to characterize a level of comfort (at home), to connect to our national character (homeland), and to name our favorite place at the end of a holiday ("there's no place like home").
When we buy a house, we want it to offer us comfort, to be a place where we can feel secure, and to be a place where we can invest our goals, aspirations, and desires as a foundation for our future. Most of us have similar life objectives and intents, regardless of the size, shape, color, or kind of house we select in a particular geographic area. We all wish to start a life with someone special, perhaps have a family, progress through life's phases, and ultimately retire. That is the American ideal. As we go through life, the everyday pressures of family, friends, education, jobs, and unexpected events pile up.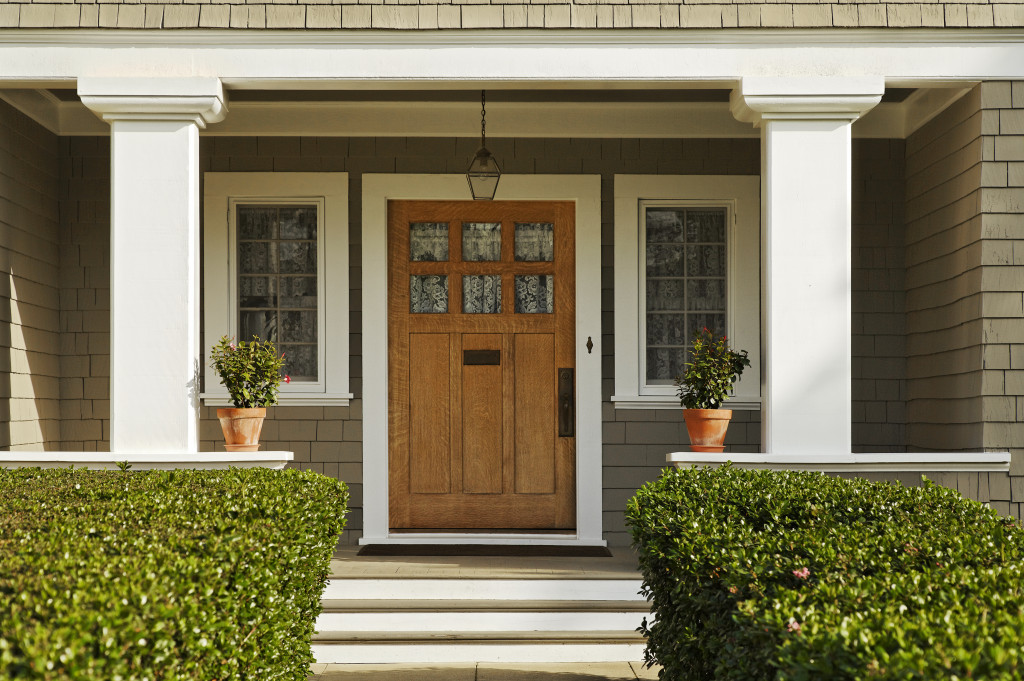 Protect Your Home
Don't assist a thief in breaking in via the front door (34% of them do).
Inspect all of your external doors to ensure that the door frames are sturdy, the hinges are secure, and that no one can reach through the mail hole to open the door.
Change the door locks if you're moving into a house that was previously occupied by someone else. That way, no outsiders will have access to your home, and you can be confident that your locks are the finest on the market.
Lights strategically placed outside your house may occasionally deter thieves. Working under cover of darkness is essential for thieves, and removing this cover will drive them to more specific targets. You can also add motion-activated lighting, which turns on when someone walks close to it. When you go on vacation or are away from home for an extended period, setting timers for your lights can create the appearance that you are still at home. Make sure that any illumination is correctly placed to serve as a deterrent rather than assistance to prospective thieves.
Another thing is to choose the ideal home insurance policy. If you're a homeowner, you probably purchased insurance to help pay your expenses if your house or its contents are damaged or destroyed. But did you realize that your insurance coverage goes outside the four walls of your home? While each home insurance policy has different limitations and restrictions, these five types of protection are common in most plans. So you can rest easy knowing that your home insurance policy may offer more security than you think. Reviewing your policy will validate the coverage you have in place, and if you have any particular questions, call out to a knowledgeable, certified insurance adviser who can assist.
Family dwelling puts you close to your loved ones. It's a low-cost living alternative that provides many chances to interact, keep each other safe, assist each other, and have genuine fun. It does not have to be challenging to figure out how to protect your house. To get started, follow these guidelines. And don't worry—you don't have to accomplish everything all at once. Determine which tactics are most essential to you and create a strategy to include the others later. The best approach to keep your property and dear ones secure is to be aware of possible security threats and to take action as soon as possible.