Most people love to spend during the winter holidays. It's when people shop for multiple gifts and buy food for the celebrations. A study shows winter holidays as the most expensive holiday in the United States. A separate research cited that consumers expect to spend an average of $998 during the winter holidays.
If you want to start a business, the winter holidays are the perfect time to do it. It's because people are more willing to spend money than other seasons. You have to take advantage of the moment. The winter holidays are a season to generate profit.
But if you still don't know which businesses to start this season, check out this list. Here are some business ideas that are perfect for the winter holidays:
Food Business
Holidays are never complete without delicious food. That's just how people celebrate the holidays, especially during Thanksgiving and Christmas day. If there's one business you can generate income from during these times, it's the food business.
Sharpen your cooking skills and polish your baking expertise. You can use all your kitchen knowledge to earn money during the winter holidays. You can prepare all the holiday specialties people love. Bake pies that are perfect for family gatherings. You can also sell vegan foods or meal preps. These are good for diet-conscious people. Bake cookies that are perfect as Christmas giveaways for children. Decorate holiday-themed cakes.
People will surely enjoy these festive foods. You're going to earn during the holidays if you venture into this business.
Alcohol
What's a celebration without alcohol? Alcoholic beverages have become a holiday staple for many families. Why not take advantage of the season and sell liquor to brighten up the mood during the winter holidays?
Score affordable wines from the store and resell them. This is a great idea for people who don't have time to shop for alcohol. Or perhaps, you can make your beer in your house. Throw in some Australian Galaxy hops to the mix for a tastier flavor. Put them in fancy bottles or containers so people can give them as premium gifts to their families.
A jovial winter celebration calls for some great-tasting alcohol. It's always been a necessity during holidays. Be the one to supply people's holiday demands by selling alcoholic beverages. However, keep on the right side of the law and get the necessary permits so you can sell alcohol.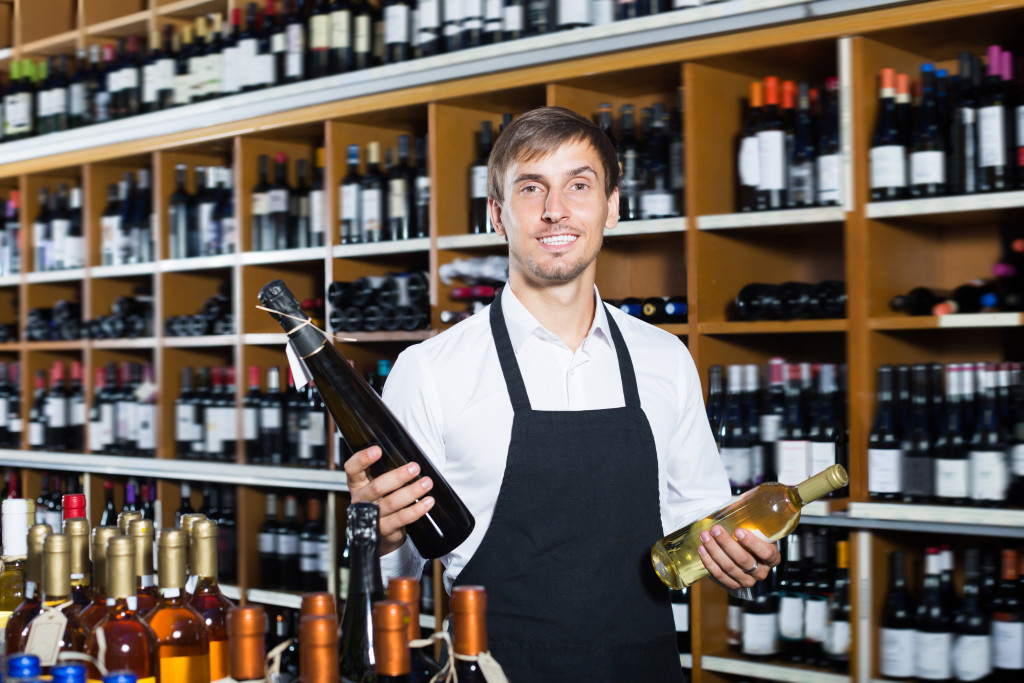 Arts and Crafts
Christmas is the time for generosity. People love giving gifts during the holiday season. So how do you take advantage of this old tradition to earn income? Create gifts that people will love to give.
Use your talent to make handicrafts and create pieces that people want to buy. They can then give these creations as gifts to their loved ones. Portraits are also an amazing gift idea. If you're well-versed with painting, you can bank on your skills. Accept portrait commissions. There's one thing that's good about making these creations during the holidays.
A survey concluded that people spend the most on gifts during the winter holidays. If you can create pieces or artworks that people can give as gifts, they're surely going to spend some to buy your creations.
Delivery Service
One thing people are limited to do during the holiday season is to go out frequently. Most are busy preparing for their own reunions and family parties. So if you want to earn a little, be a designated Santa Claus during the winter holidays.
Accept delivery tasks within the vicinity. Use your car to deliver goods and gifts. Adopt a delivery service business model to deliver foods for celebrations. You can also do shopping and grocery for others. This is perfect for busy individuals who do not have time for these chores. They'll surely want to take advantage of your delivery service for their convenience.
Other Winter-related Businesses
There's a lot of businesses that you can get into particularly in wintertime. Winter-specific businesses include selling Christmas trees. The demand for this iconic decoration never fails during winter.
Winter cleaning services are also in demand during the holidays. People are too busy to clean their houses and properties. It's going to be a great opportunity for you if they can call you for your cleaning service.
They'll love to have someone take care of the cleaning to save their time. The same goes for snow removal services. These are tasks that many people can perform, but they just don't have the time to deal with.
Earn more during the winter holidays while people are spending their money. Be creative with your business ideas. It'll give you more income so you can welcome a prosperous new year ahead of you.