The Covid-19 pandemic has led to social distancing restrictions that are causing brick-and-mortar retail stores to struggle.
The restrictions, requiring people to stay home unless they have a specific reason to leave, have caused a significant decrease in foot traffic for stores. This situation, in turn, has led to a decline in sales and, for some stores, closure.
The Covid-19 pandemic has also had a significant impact on the supply chain. Due to the outbreak, many manufacturers have had to slow down or stop production, leading to shortages of certain goods. The global crisis has made it difficult for retailers to keep their shelves stocked, further impacting their sales.
Combining these factors has created a perfect storm for the retail industry, giving more leeway for the meteoric rise of eCommerce. The pandemic will likely hasten the shift away from brick-and-mortar stores as consumers increasingly turn to online shopping.
If your business wants to stay digitally competitive, you must find a way to shift to eCommerce. Here are a few steps to accomplish it.
Setting Up an Online Store
People rely on business websites nowadays to give them a more straightforward decision about their shopping needs. They want to get a sneak peek of the product before dropping by the store to purchase them. However, eCommerce helps the customer with the transaction, allowing them to have the product delivered to the home.
The convenience offered by eCommerce made it the more preferred option. As a result, your business website must gain vital features to avoid losing out on customers.
To set up an online store, you'll need to create a shopping feature on your business website. You can work with a web developer on that task. However, eCommerce platforms like Shopify can provide a cheaper and less laborious option.
Once you have your digital store set up, you'll need to populate it with products. You'll also need to create product descriptions and set prices. Fortunately, eCommerce platforms might have supporting services to help you set up your products for selling, ensuring you can start attracting customers. They might even take charge of marketing, but there is no reason why you can't attempt those strategies yourself.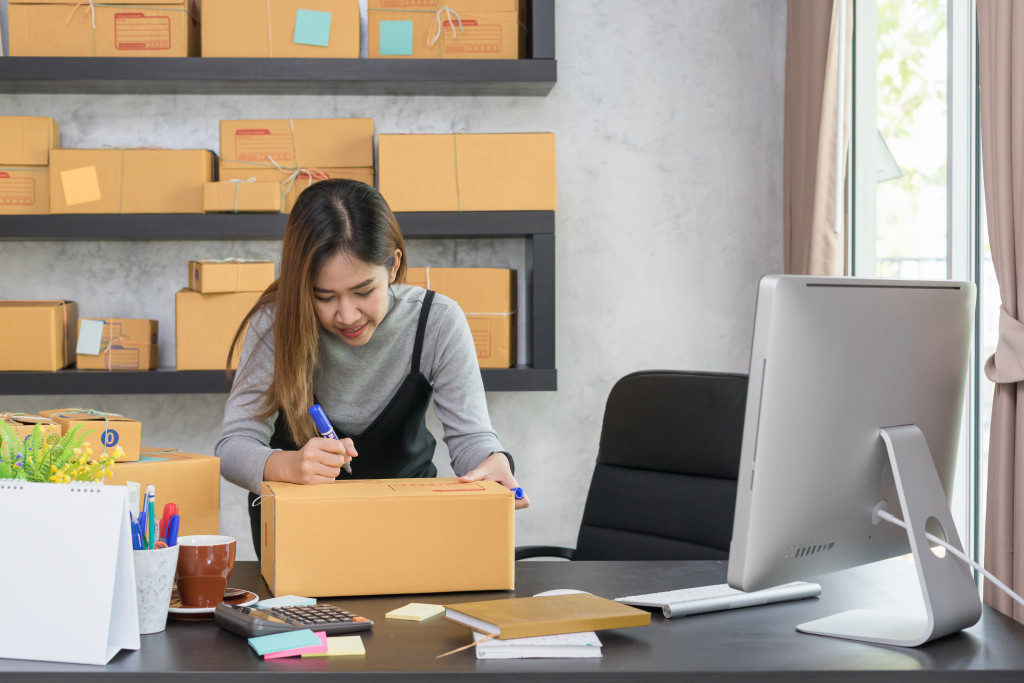 Shipping and Delivery Services
When it comes to product shipping and delivery, you can't cut corners. Customers expect quality service, and if you don't deliver, they'll take their business elsewhere. eCommerce stores often compete with larger retailers who have more resources to devote to shipping and delivery.
Shipping and delivery can make or break an eCommerce store, so it's essential to get it right. You'll need to carefully consider your shipping and delivery options and make sure you have a system that meets your customers' needs.
Try to ensure that your prices are competitive. You'll lose customers if you're charging too much for shipping and delivery. But if you're not charging enough, you won't make a profit.
There are a few ways to ship and deliver products. You can use a fulfillment center to store your products and ship them out as orders come in. Larger retailers who have high volumes of orders use this option. You can also use a third-party shipping company, which is a good option if you don't have the resources to handle shipping and delivery yourself. Third-party shipping companies can be expensive, so you'll need to ensure your prices are competitive.
When in doubt, use the combination of the two options. Fulfillment centers can ship products for you, and third-party shipping companies can deliver them to your customers. The service is suitable for smaller businesses that don't have the resources to handle shipping and delivery on their own.
Try to ensure that your shipping and delivery process is efficient and customer-friendly. Your customers will thank you for it.
Customer Service Division
Online retailers must set up a customer service division to handle customer complaints, refunds, and returns. Customer service is essential and irreplaceable to retaining customers and building trust. When customers have a positive experience with customer service, they're more likely to come back and recommend your business to others.
If you don't have a customer service division, you're likely to lose customers. They'll take their business elsewhere and tell their friends and family about their bad experiences, damaging your reputation and making it harder to attract new customers.
Business Compliance
When setting up an online retail store, one of the most important things you can do is secure business compliance. It means registering your business with the appropriate government agencies and adhering to all relevant regulations. It could result in fines and penalties, which can be disastrous for your business.
Business compliance can be complex, so it's essential to consult with an attorney or other expert who can help you navigate the process. There are several business-related government agencies you need to register with, and each one has its own set of regulations. It's essential to make sure you're familiar with all of them and that your business complies with the law. Fortunately, you can hire services for eCommerce business registration to delegate the responsibilities to more capable professionals.
It is more important than ever to set up an online retail store in today's digital age. With your products, you can reach a wider audience, but the customer service and shipping process are more manageable because of automation. Fortunately, prioritizing these steps can ensure you are off to a good start.